Business ordering app
Your own ordering and delivery app.
---
No setup fees. Simple and smooth ordering process. Track complete order fulfillment cycle from order received to dispatched to delivered.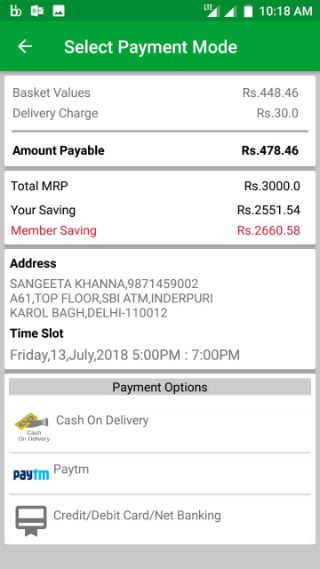 Branded mobile app
Your own business app, web panel with your logo and branding.
Advance Ordering
Customers can select a future date and time for their orders.
Feedback Management
Feedback surveys let your customers tell you when they had a good or bad experience.
Order Management
When an order comes in, we will make sure you are notified. Maintain complete Customer track record and order history.
Repeat Ordering
Customers can get their 'usual repeat items' with just a few clicks.
Admin Panel & Reports
Manage your orders, customers, and Inventory with our admin dashboard. You can easily view recently placed orders, their status, delivery process etc.
Accept Online Payments
Let customers easily pay with a Credit Card and Paytm. As a bonus, your staff saves time.
Item Imagery
Use rich images to entice sales and make your products look great. It is easy to upload pictures.
Online Visibility
The Ordering app will allow customers to order right from your app.
Portfolio
Ordering App Screenshots
---
Zero commission, Unlimited orders. Notifications, Delivery time-slot, Delivery app & much more.
Your own branded cashless debit card(Wallet)
Put your brand in your customer's pockets with your own digital loyalty card.
Business to Business App
Enable order booking from Manufacturers, Retailers, C&F Agents, Distributors, Salesman and Customers in supply chain using mobile.
A2Z Order Platform
Order App makes managing your team, catalog and customers simple. Export orders in CSV, PDF or integrate directly to your back office.
Supports multiple locations
If you have a chain of stores, easily share loyalty membership card across all of them. Your customers can use them at any of your locations.
Online Ordering Advantages
Eliminate Ordering Errors.

Reduce ordering time by up to 60%.

Receive orders 24/7 from anywhere in the world.

Customers can manage and track their Orders.

Increase accuracy of order pickup and dispatch.
Ordering Process
Simply log in to the app to start a new order.

Next, browse your item to add to your order.

Apply delivery date ,shipping addresses and complete payment.

On completion, send a branded order confirmation email.

The orders will sync automatically to the website for processing.
Delivery Boy App
Delivery Boy App
---
Track the delivery process and easily manage the delivery boys. This app connects to the ordering app so that you can use it to assign deliveries and track them.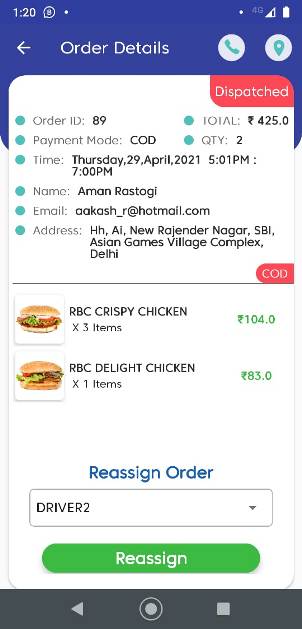 Notifications
Order Tracking By Notification. This feature will notify the customers about their order status via push notifications.
Delivery Boy
Admin can manage the delivery boys and delivery orders. The process of delivery assignment is very easy. Delivery boy can picks the shortest & fastest routes in map for delivery.
Admin
Admin dashboard to manage the statistics of orders. Admin can track delivery boy and can even re-assign them orders.
Admin App
The admin can manage delivery boy configurations.

The admin can assign and even re-assign orders to delivery boys.

The admin have the dashboard to manage the statistics of orders.

The admin can generate delivered order history.
Delivery Boy App
The delivery boy can either accept or decline the new order assigned to him.

The order details can be viewed by the delivery boy.

If a delivery boy is unable to deliver an order, the reason can be typed.

The delivery boy can mark the order as completed or cancelled.

The delivery boy can find the shortest route using built-in map feature.

Get online orders quickly
Want a Business Ordering, Delivery App ? You're in the right place !
Start now
Most Complete and Powerful Restaurant POS
Working together is better
---
In today's competitive market, having a reliable and scalable POS system is crucial for success. Our Restaurant POS software products provide a comprehensive solution that can help you become more dependable and adaptable.. With our innovative technology and customizable add-ons, the possibilities are truly limitless.