Digital QR-Code Menu
Customer Contactless Ordering & Payments
---
Guests can simply scan the QR code anywhere to open the menu. Customers can access the menu and order your food and drink, all from their own device. They can make payment too!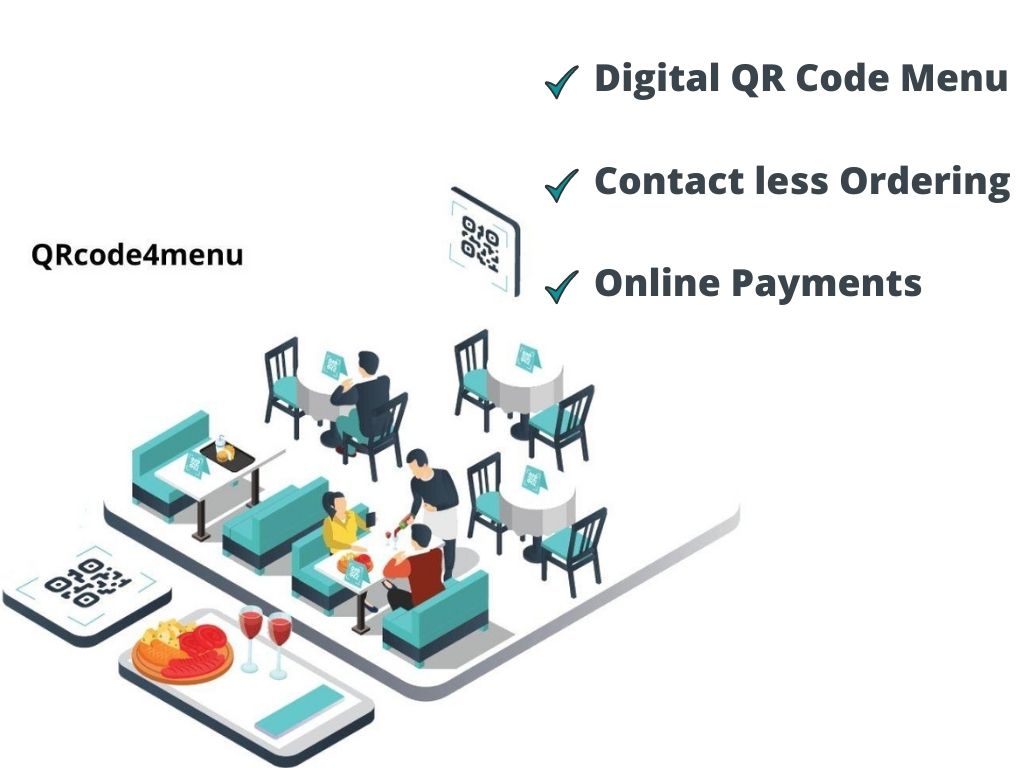 Digital Contactless Menu
Reliable Post Covid Solution. No physical contact. The digital menu for restaurants, hotels, pubs, coffee shops and eating establishments.
Translations
Automatic translation of menu in over 109 languages. Automatic translation of the menu when you open it with a browser, like Chrome.
Smartphone, tablet or computer
Works on any iPhone, iPad, Android Phone, MacBook, and Laptop. Everyone can open the menu directly on their own smartphone.
Easy and always updated
User friendly interface for adding, editing and deleting items. Our digital menu allows restaurants to include more information for each product. Restaurants can create and update their digital menu directly, at any time.
Browse the menu easily
The menus are easy to read and well organized. Each restaurant may have multiple menus (e.g. breakfast, indian, continental, daily menu, etc.) and inside a menu you can easily jump between different sections.
Clean and safe
Reduce operating and recurring cost of paper menu. A digital menu is always new and sprkling and restaurants don't need to clean or replace it repeatedly. The Digital QR menu can be customized according to the brand of your company.
No app to install
No need to download any App to view menu. Guest can read the menu without any registration.
Social networks
Apart from placing the QR Code on the table or elsewhere in the outlet, the same is possible on social networks.
Digital menu for all
Serve tables, room service, take away and delivery in a flash. Receive payments too!
Digital QR Code Menu
Friendliest QR Code Based Digital Menu for your Business
---
You can create your own menu with self brand QR Code.
How QR code ordering and payment works
---
The customer scans the code, orders via their phone, and specifies dine in, takeaway or delivery . It is that simple. And it is not just restaurant tables. Qr code ordering works for hotel rooms, stadium seat number, parking bay number or even airport gates.
Sign-up

Sign up with us with your email address. Enter details about your business in the sign-up form, select your membership plan and make payment.

Make your digital menu

Create your new digital menu using our user friendly menu Creation options.

Download your QR code for display.

Download the QR code from our website. Print your menu QR code; place it on the main door, put it on the tables, walls, or anywhere it is visible to your customers and you are done.

Guests scan QR code from their phone

No need for a waiter to order. Digital menu is available on the phone.

Check your menu directly on their smartphone

Multilingual digital menu with description gives your customers the freedom to choose easily and quickly.

Place orders, make payments and much more

Customers can place orders and even make online payment. Orders are instantly received and sent for preparation quickly. Guests get faster service and you will increase the turnover.
Great Software. Amazing prices ! Choose your pricing plan, No hidden fees!
Online Menu Ordering System
and payments !
No other system on the market today can compete with us on both price and features. NO HIDDEN FEES!
QR-code Menu
Half Yearly Package
.99
Unlimited Scans
Unlimited Tables
Unlimited Orders
Unlimited Item
Unlimited Category
Unlimited Menu Editing
Email Support
Accept Orders
Online Payments Integration*
Digital QR-Code Menu
Scan a QR-code below to view the demo menu.
---
Use Google lens or any other QR Scanner. Guests can browse your paperless menu on their personal smartphones and place an order. No app necessary. The Digital QR menu is perfect for restaurants, cafes, bars, saloons, hotels, Stadiums and Beach.
Want a Digital Qr Code menu? You're in the right place !
Meet Digital QR Code Menu. Get online ordering for your business!
Customer Self Service Ordering.
---
Reduce staff requirement and improve customer experience! Overall, digital Menu saves cost and it is safe as no customer will be touching the menus.
FAQ
Frequently Asked Questions
---
Got a question? We've got answers. If you have some other questions, contact us using email.
How can I order and get my digital QR menu?
Firstly you have to select your plan and contact us to pay the amount. After payment your account will be created and you can add a menu online. You can edit your menu anytime.
Is this a secure site for purchases?
Absolutely! We work with top payment companies which guarantees your safety and security. All billing information is stored on our payment processing partner which has the most stringent level of certification available in the payments industry.
Can I cancel my subscription?
You can cancel your subscription anytime in your account. Once the subscription is cancelled, you will not be charged next month. You will continue to have access to your account until your current subscription expires.
How long are your contracts?
Currently, we only offer half yearly and yearly subscription. You can upgrade or cancel your account at any time with no further obligation.
What are the system requirements?
The basic requirements for the QRcode menu application is a PC,laptop,Tablet or a smartphone with a web browser.
Can I request a refund?
Unfortunately, not. We do not issue full or partial refunds for any reason.
Can I try your service for free?
Of course! We're happy to offer a free plan to anyone who wants to try our service. No credit card is needed for a free trial.
Most Complete and Powerful Restaurant POS
Working together is better
---
Limitless possibilities. Our POS products allow businesses to be more reliable and scalable.