Counter Service POS
Take Away Restaurant POS with Kitchen Display, Inventory and Gift Cards.
---
ATS software automates order entry, preparation, management processes and delivery. SMS Alert on Bill Void, Reprint & Delivery Dispatch.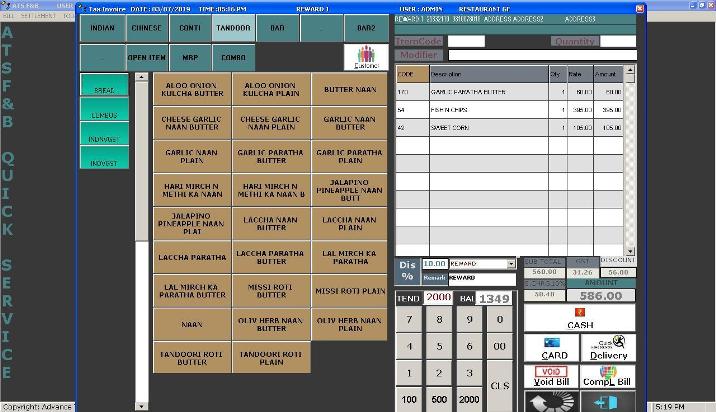 KOT
KOT printing on 1-11 remote printers in counters. 11 menu types and multiple menu category.
Voids
Secured Void Bill transaction control. User Manager to grant user rights. Bill void report.
Reports & Analytics
Daily Sales Report & outlet Audit report. Track pick-sell hours and delivery.
Modifier & Add-ons
Tagging of menu item with paid, free modifiers. Message like "Less Spicy", "No Onion" on KOT printing.
Complimentary
No charge Bill and Complimentary Item like "Buy One Get One". Generate Reports for complimentary quantity and amounts.
Customer
Customer History and Food preference choice. Gift Card and Reward point Schemes.
Hardware
Cash Drawer, RF Card Reader, Weighing scale, Barcode & Customer Display integration.
Kitchen Display
Fully integrated with ATS POS, the orders originate from POS input and are sent to the KDS through the network LAN.
Item Combos
Group eligible Items together to generate multi course "Combo".
Portfolio
The Most Complete Restaurant POS Software
---
ATS Restaurant POS is referred by leading brands and more then 900+ outlets. We believe in creating true partnerships with our customers in an effort to enhance their patron's experience.
Want a Take Away and Delivery POS ? You're in the right place !