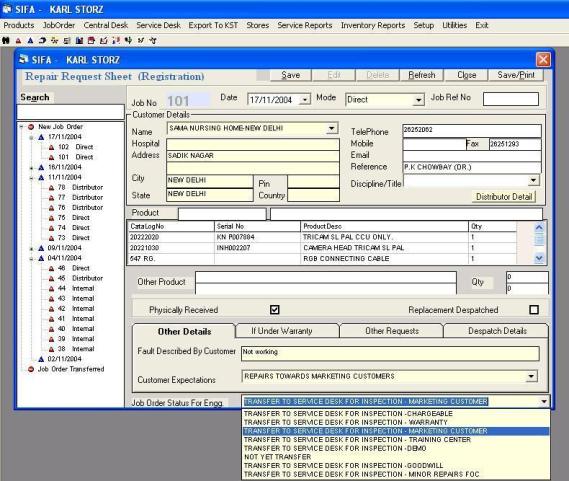 Are you tired of the chaos and inefficiency in managing job orders, service calls, and maintenance requests at your service and repair center? Look no further! Our cutting-edge Job Order Management Software is here to revolutionize the way you handle your operations. With its comprehensive features and user-friendly interface, you can seamlessly streamline your processes, improve productivity, and boost profitability. Whether you run a repair shop, service center, or any other facility that requires efficient job management, our software is the perfect solution for you.
Efficiently managing job orders and work orders is crucial for successful operations in service centers and repair facilities. The seamless coordination of repair and replacement work across various departments is essential to ensure smooth workflows, reduce turnaround times, and enhance overall operational efficiency. In today's fast-paced business environment, service centers require robust software solutions that can automate tasks, provide real-time collaboration, and offer valuable insights into their operations.
At Advance Technology Systems, we understand the challenges faced by service centers and repair facilities when it comes to job order and inventory management. To address these challenges, we have developed a comprehensive service and repair center management software called JobOrderDesk. Our software is designed to streamline the entire job repair process, from registration to dispatch, and optimize the management of job orders, work orders, and inventory.
Enhance Your Service Center Operations
Managing job orders and work orders can be a daunting task, especially when dealing with multiple departments and complex repair processes. Our Job Order Management Software simplifies this process, starting from the moment a client calls for a service until the final invoice is sent. Let's take a closer look at the features that make our software a game-changer for service and repair centers:
1. Job Order Registration at Front Desk
Say goodbye to the hassle of manually recording job orders. Our software enables you to register and track all incoming job orders seamlessly. With a few clicks, you can enter the details of the service request and initiate the repair process promptly.
2. Job Estimate for Repair & Replacement
Accurate estimation is crucial for providing transparent service to your clients. Our software allows you to generate detailed job estimates for repair and replacement work. You can create templates for common repairs, making the estimation process faster and more efficient.
3. Spare Templates for Repair
Save time and effort by creating spare templates for commonly used parts in your repair center. This feature enables you to quickly select the required spare parts during the repair process, ensuring smooth operations and reducing errors.
4. Repair Pricing Templates
Estimating the cost of repairs involves considering both parts and labor. Our software provides predefined repair pricing templates for parts and labor, allowing you to calculate accurate estimates and eliminate guesswork.
5. Approval Workflow
Efficiently manage the approval process for chargeable and non-chargeable estimates. The software enables both customer and internal approvals, ensuring transparency and preventing misunderstandings.
6. Re-Export and Preliminary Exchange
When repairs require the exchange of parts, our software simplifies the process. You can effortlessly handle re-exports and preliminary exchanges, ensuring a smooth flow of inventory and minimizing delays.
7. Standby, Replacement & Demo Job Orders
Sometimes, service centers need to provide standby or replacement equipment to their clients. Our software facilitates the creation and management of standby, replacement, and demo job orders, allowing you to meet your clients' needs effectively.
8. Generation of Documents
Our software automates the generation of essential documents, including S.S.P. forms, proforma invoices, re-export forms, non-returnable delivery challans, job order invoices, and more. This saves you time and ensures accurate documentation.
9. Engineers Time & Cost Tracking
Efficiently track the time and cost associated with each job order. This feature helps you monitor your resources, identify areas for improvement, and optimize your operations.
10. Streamlined Repair Process
From receiving and scheduling to dispatching and invoicing, our software streamlines the entire repair process. You can effortlessly manage internal, direct, and distributor job orders, track inventory, and ensure timely completion of repairs.
11. Comprehensive Inventory Management
Maintaining an accurate inventory is crucial for service centers. Our software provides robust inventory management features, allowing you to track spare parts, manage stock levels, and optimize your inventory control.
12. Demo and Standby Equipment
If your service center deals with demo or standby equipment, our software enables seamless management of these assets. You can track the availability, location, and status of demo and standby equipment, ensuring smooth operations and customer satisfaction.
13. Dispatch to Customer
Efficiently dispatch repaired items to your customers with our software's streamlined dispatch management features. You can track the delivery status, generate delivery challans, and ensure timely and accurate deliveries.
14. Hassle-free Invoicing
Generate professional invoices with ease using our software. You can create job order invoices, ensuring accurate billing and a smooth invoicing process.
Experience the Power of Job Order Management Software
With our Job Order Management Software, you can revolutionize your service and repair center's operations. Say goodbye to manual paperwork, complex spreadsheets, and disorganized processes. Embrace efficiency, transparency, and improved profitability. Contact us today to learn more about how our software can transform your service and repair center.
*This article is brought to you by Advance Technology Systems. We are dedicated to providing cutting-edge software solutions to businesses worldwide.*